Native Bahamian Dishes
Traveling to a new place is not only about exploring the unknown lands whereas, it even gives you the opportunity of tasting different cuisines. A place is not only known for its landmarks but the traditional and native dishes even has a major role to place.
So, while visiting the Bahamas you should not only be excited about the scenic beaches and long shores but even for the great tradition of delicious local food. The traditional dishes of Bahamas are very vibrant and different and the reason behind it is the ingredients.
Bahamian food infuses a variety of ingredient that is not commonly used in any regular household and this is what makes all the difference.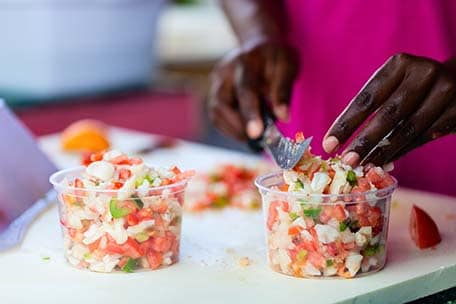 You will find guava, conch and rock lobster in every Bahamian dishes. While you taste the side dishes, carefully indulge into the seasoning of their dishes, you will encounter that the cooking style and foods are influenced by South American cuisine.
Not only this, the Bahamian dishes are quite similar to the Caribbean cuisine as well. Such as you will find seafood as a major part of their meal. On the other hand, peas and rice is even a common dish.
To know more about their cuisine, let us dive in the native Bahamian dishes and do not forget to try these dishes on your next trip to the Bahamas.
Conch
You cannot imagine leaving the Bahamas without tasting conch. This is considered as the queen of all the native dishes. The locals are in love with the subtle taste and soft texture of conch. Conch is actually a sea snail that has white meat.
The locals cook it in many different ways but the most common amid them is frying the meat with butter. On your visit to the Bahamas, try the conch fritterwhich is prepared by combining finely chopped conch with red pepper and onions. These are then deep fried and served with a simple salad.
Guava Duff
If you are a dessert lover, then you should definitely try this native Bahamian dish. This is a stable dessert of the people of Bahamas. However, it is made by spreading guava jam on a sweet dough and rolling it up.
Later that dough is sliced and those slices are placed in a cotton bag. It is then boiled in hot water until its cooked. These guava duffs are served with rum. It is a common dish for breakfast in every Bahamian household.
Pea 'N' Rice
It is not just the native dish but even the main dish of Bahamas. You will find
this dish in every restaurant in the Bahamas. It is a simple but delicious meal that you can have on a beautiful island. Pea 'n' rice is made by adding pigeon peas in boiling water with rice, veggies, bay leaves, onions, and spices. It is then boiled until everything is cooked and the texture becomes softs and moisty. You can have it simply but the locals love eating it with salted pork or sometimes bacon.
Rum Cake
As pea 'n' rice is the main dish of Bahamas even rum cake is the main dessert of this island. It is a rich dessert which is baked in a bundt pan with a generous amount of rum.
Whether you are at a big restaurant or a local café, rum cake is something that you are sure to find in the menu of desserts. So do not forget to satisfy your taste buds with the delicious flavor of this cake.
Traveling to Nassau Bahamas Soon?
Baggy Rocks is your one stop for all Tourism Related Business in Nassau, Bahamas. Here you can Book Your Airport Transfers, Transportation, Tours, Wedding Photographers and More. We also offer Transportation to Atlantis Bahamas as well! Five Star Ratings for Outstanding Service and Ranked #1 on Google for Nassau Bahamas Transportation and Tours in 2018 & 2019.
Want to explore Nassau Bahamas but short on time !? No worries! You can visit the island and take a customized Mini Island tour! Transportation is also provided ! Baggy Rocks is Nassau #1 Customer Rated Transportation Company via Google!