Conch Salad Recipe
It is said that a perfect bowl of conch salad will give you the finest taste of Bahamian culture. This might seem to you a bit of exaggeration but this is what conch salad is all about in the Bahamas. Conch saladis one of the traditional food of Bahamian people. In every household, you will find this food item and it is even served in every restaurant and cafes as well.
However, the salad that you are likely to taste in restaurants has a slight variation to it compared to the local one. But if you want to taste the real conch salad then you must visit a friendly household or a local restaurant. But there is nothing to worry if you are unable to find one or you have not been to the Bahamas as this article is all about the conch salad recipe.
Before moving on to the recipe lets know more about this salad. By now you might be well aware that the main ingredient of this salad is conch. However, it is raw white meat that comes from a spiral-shelledand pink-lipped queen conch.
Queen conch is basically the native sea creature of the Antarctic ocean but a large number of these can even be found in the Bahamas. Moreover, the Bahamas National Trusts Conchservation Campaign is an organization which is working for the conservation of conchand it even aims to ensure that conch remains the local food of Bahamas.
Moving on to the recipe, here is the list of ingredients that you will need for preparing the Conch Salad.
8 oz of conch
5 tablespoon of orange juice
10 tablespoon of lime juice
1 tomato
1 cucumber
¼ cup onion, diced
½ cup diced bell pepper
3 hot peppers
Salt and pepper
After you have accumulated the ingredients let us move to the process of making this delicious and unique salad
First, make a mixture of salt, lemon and water then wash the conch with it. After that is done, clean the conch properly and remove the slime from it. Cut the conch into small cubes and make sure that you do not make it too small.
Mix all the veggies after dicing them in a mixing bowl. Lastly, add the conch into the bowl and mix it well. Place the bowl in the refrigerator for 15 minutes and later serve it.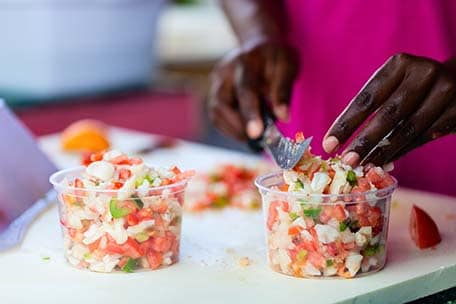 The conch salad is full of flavor but mostly it is dominated by the citrusy taste. But if you are not a sour lover, then you can even go for the sweet versionof it.
All you need to is add 2 tablespoons of sugar and the sweet conch salad will be ready for you. But above all do not forget to try the conch salad with Bahamian beer for the authentic taste. So, make your own conch salad and relish the taste.